A journey of transformation: a chronicle of our Alma Carraovejas 2019 teambuilding days.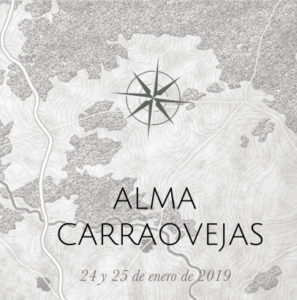 Lao Tse said that "A journey of a thousand miles begins with a single step", but what happens when the journey begins within oneself? How do you start a journey towards transformation? How do you walk in search of improvement without losing your essence and authenticity? In our case, it was clear: in company.
And so, together with our colleagues from Ossian Vides y Vinos, Ambivium Restaurant and our new project -of which we will soon tell you more-, we started last Thursday 24th a journey under a title that synthesized everything we are and what we understand makes us unique: Alma Carraovejas. A title based on the pillars that move us: passion, vision, authenticity and team.
First stop for the Alma Carraovejas Teambuildin: ASTI Tech Group. If we really wanted to know how a pure transformation process is lived, there is nothing better than soaking in the experience of those who have lived it in their own flesh and in an integral way. Born in 1982, the history of ASTI and Pago de Carraovejas have followed a remarkable parallelism: family businesses in which the second generation takes the reins to give an innovative impulse betting on the team and the improvement of processes. All of this, of course, paying a heartfelt tribute to those who started the adventure, personified in our case by José María Ruiz, a source of inspiration for all of us, who accompanied us throughout the trip.
After the spectacular visit to ASTI's facilities, Verónica Pascual herself was in charge of capturing in her talk at the Parador de Lerma that parallelism between both companies, not only business but, beyond that, her own life experience that sometimes seems similar to that of our CEO Pedro Ruiz. Two people who, at a very young age, took the helm of their family businesses and, with a great deal of effort, tried to take them to new heights of excellence.
We would also like to thank the entire ASTI team: Antonio J. Fernández (@abueloconsultor), Rubén Muñoz, María Orive and, of course, Verónica Pascual herself, who gave their all with us. We do not want to miss the opportunity to give a special nod to Antonio Fernández who gave us a special edition of his book 'Mi Abuelo Dixit', with a prologue by Pedro Ruiz himself and, of course, to Pedro himself for his personalized letter to each and every one of us: perhaps the gift that touched us all the most, because it is clear to us that the best thing you can give someone is their time.
With almost no time to change, we dropped our bags at the Hotel NH Collection Palacio de Burgos and headed to the Museum of Human Evolution so that Xavier Marcet could enlighten us in his talk on innovation, transformation and change. Few people in our country have in their personal and professional background so much experience in this subject and his enriching vision was the perfect prelude to an evening of fellowship, togetherness and shared learning. We did not forget the 320 kilometers that separate Burgos and Bilbao (round trip) to accompany us for a couple of hours. A thousand thanks for coming Ana Santos!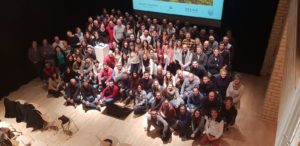 Magical dinner. The cloister of the NH Palacio de Burgos is one of those places full of energy and good vibes in which our wines and the magnificent Quintaluna of our Ossian colleagues watered an evening of family, friendship and joy. No place more appropriate to thank our colleague Luis, who is retiring this year, for so many harvests by our side. However, we still had to enjoy the end of the party and, for that, nothing better than Mayalde. The spectacular staging of the Aldeatejada band was only surpassed by the bond they created with the audience, us. At times we felt sheltered by an ancestral fire, enjoying those family dinners in the "village house", soaking up the wisdom of our ancestors through oral tradition, song and dance. Like little children we savored every narration, every stanza dedicated to wine and the land, every dance and, especially, every scrap of wisdom distilled by Eusebio and his family. Thanks to Mayalde for reminding us that the truly magical thing about our land is that we manage to get the most valuable things out of nothing.
The morning of Friday 25 began with the exhibition on the paradigm of Renaissance man; Leonardo Da Vinci. A genius of whom little can be added and that was the perfect introduction to receive one of those people who, like Leonardo, have the ability to disrupt all your ideas (in a good way). Listening to Irene Villa's life experience first hand could be summarized as an emotional slap in the face, a cocktail of sensations and feelings for all of us who, as children, felt a knot in our chest with her story and a genuine example of overcoming and vitality. Perhaps the best example of self-improvement and personal transformation that we have ever encountered. Psychologist, journalist, mother, fencing runner-up, adapted skiing champion, lecturer… Her eternal smile, her closeness, her empathetic character and her ability to refuse the impossible drew the most sincere applause from our colleagues. That "knowing that you can" that Irene Villa transmits is a vital battery recharge that each and every one of us take with us as a gift. From the bottom of our hearts, thank you Irene.
As we do not conceive gastronomy without wine and we do not understand wine without gastronomy, there is nothing better than to surround ourselves with the best and, being in Burgos, perhaps Miguel Cobo from Cobo Vintage is the best exponent. Our return to the cloister of the NH had one last surprise: a catering with his elaborations and many of the novelties that Miguel will soon show to the public. A cuisine that is also a story, a journey through the flavors and the product, and of which we can only tell you that it is simply spectacular. Few like him to capture on a plate concepts that combine tradition and avant-garde, modernity and tribute to his heritage. Many thanks to Cobo and all his team and that of the NH Palacio de Burgos! This was the Alma Carraovejas Teambuilding, but for us the journey towards transformation has only just begun, many thanks to all of you who accompany us every day because you are a fundamental part of it.