There are few things that make us more excited than the fact that our wines are recognized. All the passion that our technical team dedicates to the elaboration of each vintage; the hours of work of our viticulture colleagues in the vineyard, the effort of our commercial team to bring each reference to the customers; the investment in research and development; in continuing to seek new heights of excellence… Finally, the enormous work of all the people who make up Pago de Carraovejas and that we try to capture in each bottle.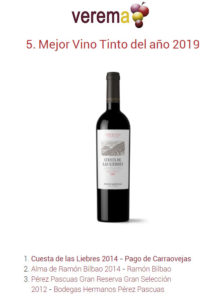 Bottles that reflect a place, that tell stories every time they are uncorked. They come from the depths of our hearts and we try to transmit them with as much energy and passion as we put into making them. However, there is something that makes us even more excited -if possible-. That this recognition comes from the most important part of the whole link: you.
If this award comes directly from all of you who appreciate this work, who value effort, enthusiasm and non-conformism, the reward is double. That fills us with a special pride and an extra motivation: to keep trying to improve every day.
Verema: Best Red Wine Award for Cuesta de las Liebres 2014
The fact that 'Cuesta de las Liebres 2014' has been chosen as Best Red Wine of 2019 for Verema only makes us doubly happy: for the award itself and, especially, because it was all of you who chose it. Thank you. From the bottom of our hearts.
In addition, as joys usually come in pairs, we were delighted to learn that Ambivium has been chosen as 'Restaurant with the best treatment of wine. Louis Roederer Award'. A great news for a restaurant that despite its youth is becoming a gastronomic reference in our country thanks to its landscape cuisine and its incredible harmonies, unpublished and ephemeral.
We can only congratulate the rest of the award winners, among whom we find great colleagues and friends; all of them highly respected professionals in our sector and with whom we share this magical passion that makes us vibrate vintage after vintage. Congratulations!
Cuesta de las Liebres 2014: 'Best Red Wine Award 2019' by Verema